MatchPay allows players to use the P2P payment service to withdraw and deposit funds on online casinos. Players from the US can move funds from Paypal, Zelle, Venmo, and Cash App to their online casino accounts with the help of MatchPay.
Bovada is the first and only online casino that has allowed MatchPay services on its platform. After signing up at the casino, you must check the payment option to know if Matchpay is available for you. If you don't find it in the payment methods, feel free to contact matchpay customer service.
Team Win-Slots has discovered how to use MatchPay to fund your online casino account.
READ MORE: Miraculous Prayer for Gambling
Basics Details
| | |
| --- | --- |
| MatchPay's Headquarters | Seattle, Washington, United States |
| Who Invested in MatchPay | DigitalCPR |
What is MatchPay?
MatchPay is a P2P trading platform where MatchPay users can buy and sell credits with each other. The more payment methods you use, the more chances you can match others users. The payment services that MatchPay users can use are mentioned below: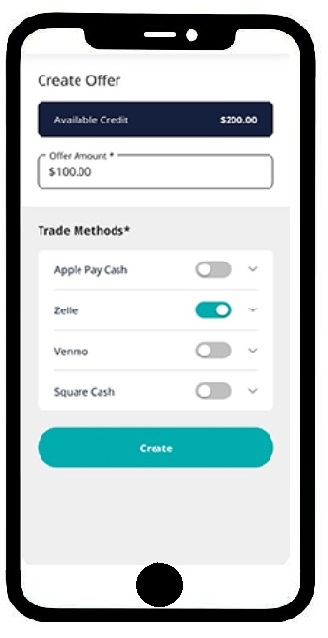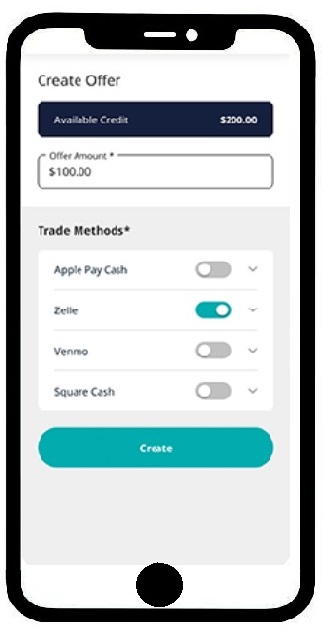 PayPal
Venmo
Zelle
Square Cash
Apple Pay Cash
Bovada is the only US online casino that accepts MatchPay. When signing up on Bovada, you must check if this payment option is available to you or not.
How to Check if MatchPay is Available to You at Bovada Casino?
After registering on the online casino Bovada, you must check if MatchPay is listed in the payment methods. If you don't see it listed in the payment methods, you must contact the matchpay customer service team to request to add MatchPay.
Also, there are several other methods you can use at online casinos. Check one below:
MatchPay Alternatives
If you don't see MatchPay on the payment methods on your Bovada account, don't take the stress. You can use many other alternative payment methods for your online casino account.
Zelle
Easy transfers
Deposit limits – $10-$15,000
Bovada accepts this payment method.
Neosurf
You can use Neosurf vouchers instead of the Credit card.
Quick transfers.
Cash App
You can use Bitcoin to pay using Cash App.
Deposit limits are high.
You can claim huge Crypto bonuses.
MatchPay Accepting Online Casino
Bovada is the only online casino that accepts MatchPay as a banking option. It is the US successor to Bodog, a renowned online casino from Canada.
The deposit limits with MatchPay at Bovada casino are $20 to $100.You receive a 100% deposit bonus of upto $1,000 if you deposit using MatchPay with the deposit code CAWELCOME100. You can claim a 100% bonus of up to $1,000 on the 2nd and 3rd deposit with the code BV2NDCWB.
CHANCE TO WIN A JACKPOT ON SPINAGO1 CASINO
How to Deposit on a MatchPay Casino
You must create a MatchPay account in order to withdraw or deposit on Bovada. Fill in and verify all the required details, such as email and phone number. The next step is to create a MatchPay ID and a strong password. You can link the MatchPay account to your Bovada account, but you cannot trade outside the platform.
You can get your money to any other online payment service once it is out of your Bovada Casino account.
How to Use MatchPay?
Depositing in your Bovada account might seem a bit hard, but after reading how to use MatchPay, you will know how easy it is.
1- Create a MatchPay Account
Visit the MatchPay website and create an account using the required details.
Fill in and verify your email and phone number.
Now create a MatchPay ID and create a strong password.
Create an order in your MatchPay account and wait for another user to match the amount he is willing to sell.
The procedure is simple since your Bovada deposit request automatically transforms into a MatchPay Order.
2-Fund Your Bovada Casino Account with MatchPay
Create your Bovada casino account with the required details. It takes nearly 5 minutes to create one.
Choose MatchPay as the deposit option.
Fill in the amount you want to deposit (the limit is $20 to $1,000)
Claim the welcome bonus before funding the account. Use the bonus code CAWELCOME100 to activate the welcome bonus.
Now you can start playing.
How to Withdraw Money From Matchpay
By choosing MatchPay as the withdrawal method, you can withdraw your winnings to several payment services such as Cash App, PayPal, Zelle, and Venmo.
You can transfer the withdrawals to your bank once they get deposited into the payment services mentioned above.
How to Withdraw Using MatchPay?
Follow the steps mentioned below:
Request a payout at Bovada casino and fill in the amount you wish to withdraw.
The withdrawal will become a MatchPay offer, i.e., you are selling the Matchpay credits in exchange for cash.
Trade on MatchPay; exchange your credit for cash. This trade is quick, private, and safe.
Now you can move the cash to your choice of payment service. Then you can transfer it to your bank account.
Transection Limits on Bovada Using Matchpay
Deposit Limits: $20 to $1000
Withdraw Limits: $20 to $1000 (2 times per calendar day)
Can US Players deposit at Bovada Using MatchPay?
Yes, players from the US can deposit using MatchPay. MatchPay benefits US players as some other payment services, such as Venmo and PayPal, don't allow gambling payments.
You can use money in a MatchPay account for gambling services; on the other hand, payment services like PayPal and Venmo cannot detect that.
How to gamble with MatchPay using Paypal OR Venmo
MatchPay helps players from the US to use Venmo and Paypal to gamble. This was so needed in the states, and now Bovada sorted it out.
You will have to make one extra transaction, which might consume a few more minutes. But remember that Matchpay trades are quick, safe, and private.
MatchPay Online Gambling PROS AND CONS
MatchPay PROS
MatchPay CONS
– No extra fess is added for deposits or withdrawals using Matchpay
– Allows payment services such as Zelle Pay, Cash App, PayPal, and Venmo for gambling transactions.
– The process is fast, secure, and private.
– Players cannot claim Crypto bonuses.
– Sometimes the process takes a bit longer due to inactive sellers.
– Only Bovada casino allows Matchpay to gamble online.
Is MatchPay Legit?
Yes. US people aged 18 and up can use MatchPay services for real money gambling at online casinos, poker rooms and sportsbooks.
If you use PayPal, Zelle, Venmo, or Cash App youcan use MatchPay services on online gambling.
Mobile App
There is no mobile app for MatchPay. But the platform is well optimized for all smart devices irrespective of model and screen size.
MatchPay Customer Service
There is a live chat feature as well a email support : [email protected]
Forum Discussion about MatchPay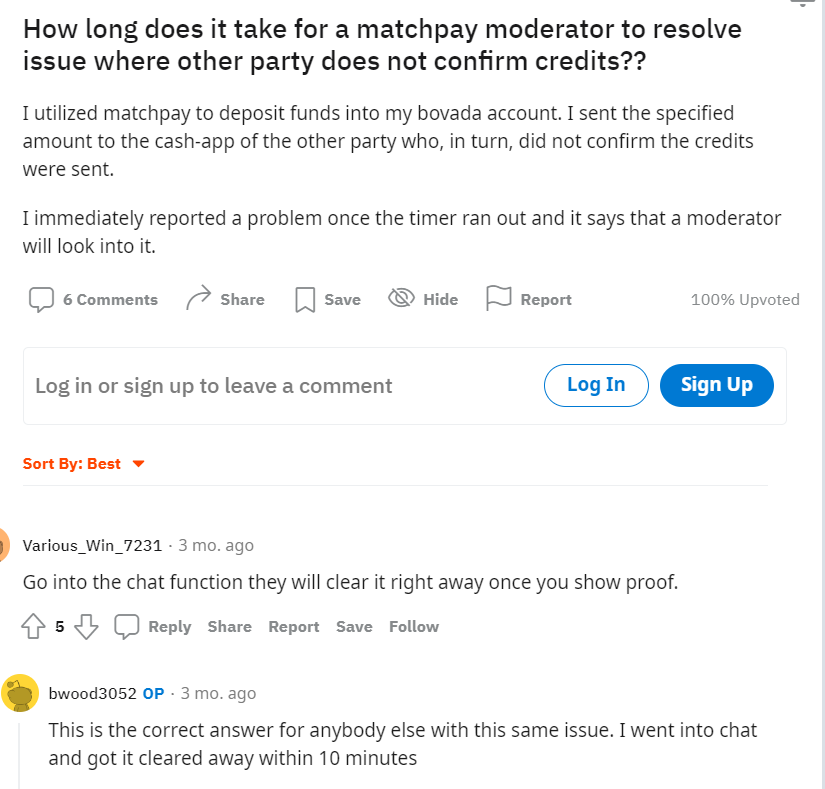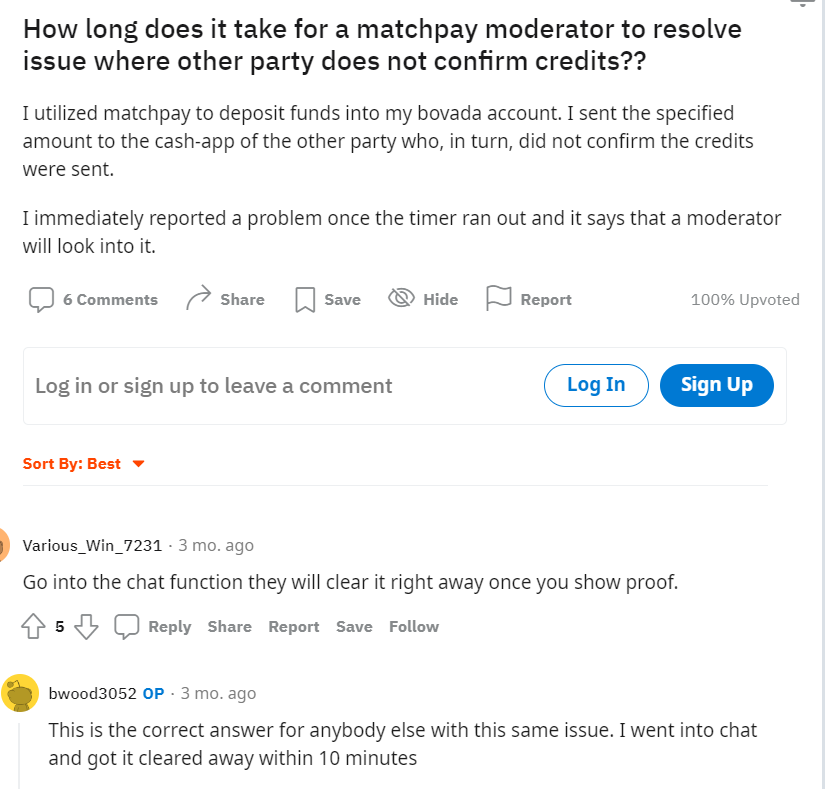 Matchpay FAQs
How Can I Create an Offer on Matchpay?
Tap on the 3 horizontal lines located on the top right of the MatchPay account.
Choose 'My Offer.'
Tap on 'Create a New Offer.'
Fill in the desired amount and choose the method you want to use.
Tap 'Create.'
The thing to Keep in Mind
Sometimes other users cancel an offer that has not been matched. In this scenario, the offer will be canceled, and the credits will be sent back to Matchpay s 'Credit Balance.'
Can I deposit money directly from MatchPay to my bank account?
Nope. MatchPay offers a P2P service for trading credit with other MatchPay accountholders. You can exchange credits using PayPal, Venmo, Zelle, CashApp, Chime, or Apple Pay. More trading options mean more chances to find a match to complete the trading.
Where to find trading methods on MatchPay?
· Tap on the three horizontal lines at the top right of the homepage.
· Visit 'Trading Settings' – You can see all the options listed here.
How can I edit my created offer?
Sometimes your offer matches partially, And with the left offer, you have very few chances to match. So you might want to delete the offer, but you can edit the amount and the trading options and add more credit to your balance. The steps are below:
Tap the 'Edit' button for the offer you want to edit.
Now fill in the desired amount, and also you get to edit the preferred method.
Tap 'Save' – a confirmation message will follow up.
Remember that you cannot edit or delete an offer if it is in progress.
Can I cancel an offer after finding a match?
Yes you can cancel it before the trade option (Chime, Venmo, Apple Pay, PayPal, Cash APP, OR Zelle) details have been shared with the other person your offer matched. You cannot cancel once the details are shared.
Where do I find my Trade history?
Visit the history activity on the MatchPay dashboard.
I have completed the trade, but I am still waiting for my credits.
If you have completed the process, but the other users have not completed it, then you must use the live chat to resolve the issue.
Furthermore, if the issue is not resolved with live chat, then you must report the issue via email at [email protected]. You will get a response within 48 hours.
What does it mean- A match has been found for your offer?
Once you get the message that your offer found a match, then you have five minutes to accept or decline the match.
If you accept the offer, you must share the details of your trade gateway.
The other MatchPay account holder will send the offer amount with the help of trade gateway details.
The other party has 10 minutes to confirm, and for that, he must go to his Matchpay account and tap 'Credits were Sent.'
You have 15 minutes to confirm if you receive the exact amount. You must visit your MatchPay account and tap on 'Credits Were Received.'
Can I cancel a pending offer?
Tap on the three horizontal lines at the top right of the Matchapy account.
Tap on 'My Offers.'
You can see your 'Active Offers' on the 'My Offers' tab.
Click the 'X' button on the pending offer.
Things to Remember
If the offer is canceled, then the credits will move to your MatchPay 'Credit Balance.'
The other user won't be able to edit or cancel the pending offer after it gets matched to an order.
What are available credits on MatchPay?
The unused funds on MatchPay and still available to trade with other users are termed available credits.
How can I contact Matchpay customer service?
You can use the live chat option and send your query to [email protected] OR [email protected]. Usually, it takes 48 hours for a response.
How can I change my MatchPay ID?
You are not allowed to do the edits after creating a MatchPay ID.
How can I validate my phone number on MatchPay?
After signing up on MatchPay, you must verify your phone number via an SMS verification process. It is done to make your account safer.
Final Words by Win-Slots
MatchPay is a peer-to-peer payment service used as a payment option on Bovada Casino. You can use the service if registered on Cash App, Apple Pay, PayPal, Venmo, or Zelle. The platform is quick, safe, and secure. So at least give it a try.