Contrary to what many people think, land-based casinos (also called brick-and-mortar casinos) are not becoming less important compared to online gambling platforms.
They are flourishing for a valid reason: Land-based casinos provide a unique and traditional casino experience that cannot be replicated online. These physical casinos are still highly prevalent worldwide, attracting significant money daily.
Actually, a few of these casinos have become enormous megacasinos over time, with huge buildings, stunning decorations, and an unbelievable variety of games. And that's not all.
They also have hotels, restaurants, game rooms without gambling, bars, swimming pools, spas, and countless other attractions to make them appealing to everyone in the family.
Let's explore some of the world's most fantastic and biggest casinos to see what they have in store for visitors.
Key Points Covered in the Article
Land-based casinos are thriving and offer a unique experience compared to online gambling platforms.
The top 10 world's best land-based casinos are:
The Hippodrome Casino in London, England
Mohegan Sun in Connecticut, US
Thunder Valley Casino Resort in California, US
Casino Baden-Baden in Baden, Germany
Sun City Resort in Rustenburg, South Africa
Seminole Hard Rock Hotel & Casino in Florida, US
The Empire in London, England
Casino de Monte Carlo in Monte Carlo, Monaco
The Venetian in Macau, China
Riverwind Casino in Oklahoma, US
These casinos offer diverse games, stunning architecture, and amenities like hotels, restaurants, spas, and entertainment venues.
Despite the popularity of online gambling, land-based casinos continue to attract visitors and provide an immersive casino experience.
10 Best Casino In The World
1. The Hippodrome Casino in London, England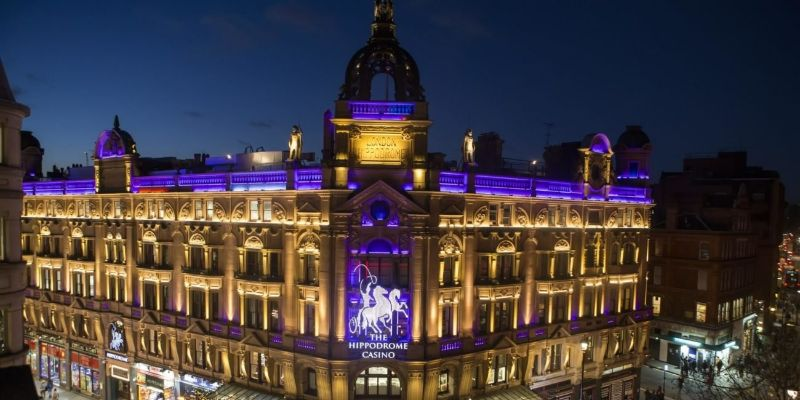 At the top of the list is the Hippodrome Casino in London, England. It's one of the most famous casinos globally and has a long history dating back to 1900, over a hundred years ago. Initially, it was originally designed as a place for performances.
However, it has undergone some changes over the past 122 years. Today, it stands as a huge casino, offering a one-of-a-kind ambiance and attracting numerous visitors daily.
The Hippodrome is also well-known for being a great spot to catch NFL games. Inside, you'll find five floors packed with all sorts of games to enjoy, and there's even a whole floor solely dedicated to poker.
Besides the exciting gaming options, the casino boasts an acclaimed steakhouse that has won multiple awards.
It also features a theater called Magic Mike Live, which can hold more than 320 people. Additionally, eight bars, an outdoor terrace, and many other fantastic amenities make your visit truly memorable.
While it may not be the biggest casino globally, spanning 75,000 square feet, the Hippodrome is still considered one of the finest and most extravagant.
Because of its luxurious offerings, it has earned a reputation as one of London's top destinations for local gamblers and visitors who love casino games.
2. Mohegan Sun in Connecticut, US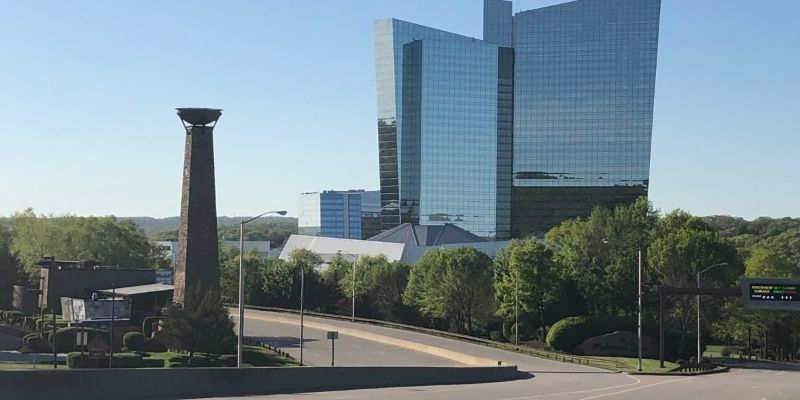 Next, we have the Mohegan Sun in Uncasville, Connecticut. This casino is truly massive, covering an area of approximately 364,000 square feet, making it one of the largest in the United States.
It was established in 1996, so it's been around for a little over 25 years.
The Mohegan Sun is owned and operated by the Mohegan Tribe, and throughout its 26-year history, it has undergone three significant renovations to enhance its offerings.
Nowadays, visitors can enjoy thousands of gaming machines, including approximately 6,500 slots and other types of machines.
Additionally, the casino boasts about 377 tables for various other exciting games.
The Mohegan Sun Casino is a must-visit place if you're in the area. It has 45 restaurants, bars, lounges, and more. There's also a huge shopping area spanning 130,000 square feet.
One of the unique attractions is a planetarium-like dome made of 12,000 plates of onyx that were fused into glass in Italy and then brought here.
Additionally, the resort where the casino is located is the home of two professional sports teams.
There's a WNBA team called the Connecticut Sun and a lacrosse team known as New England Black Wolves.
3. Thunder Valley Casino Resort in California, US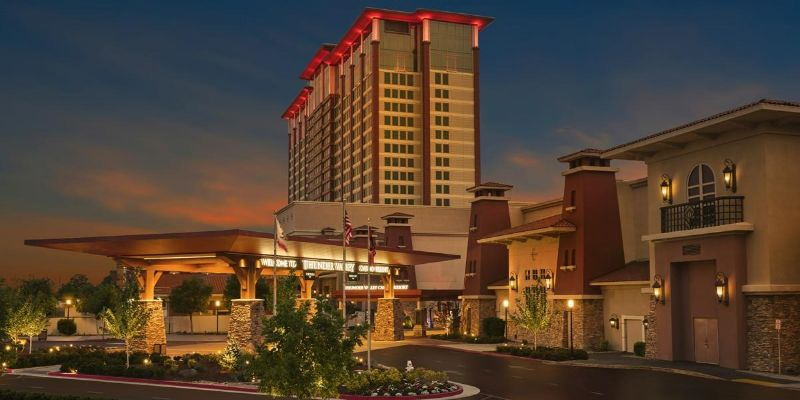 In third place, we have a casino located in Lincoln, California. It's been around for nearly 20 years since it was built in 2003, and it's owned and run by the united Auburn Indian Community.
Getting there is super convenient; just head north of Sacramento, and you'll find it only 30 miles outside the city.
The casino was built in a Vegas style, and that's not a coincidence.
Someone from Las Vegas designed it, and until 2010, it was even managed by Station Casinos. The casino is huge, covering an area of 275,000 square feet.
It's packed with over 3,400 games, slot machines for you to enjoy, and 125 table games. On top of that, there are separate poker tables as well.
Once the Auburn Indian Community took over, the casino went through a big expansion. They added a fancy hotel with more than 400 rooms, a luxurious spa, and a health club.
Not only that, but the casino also has 14 restaurants and bars where you can grab a bite to eat or have a refreshing drink.
And if you're into golf, you'll be thrilled to know that they have a famous 18-hole golf course called The Whitney Oaks Golf Club.
4. Casino Baden-Baden in Baden, Germany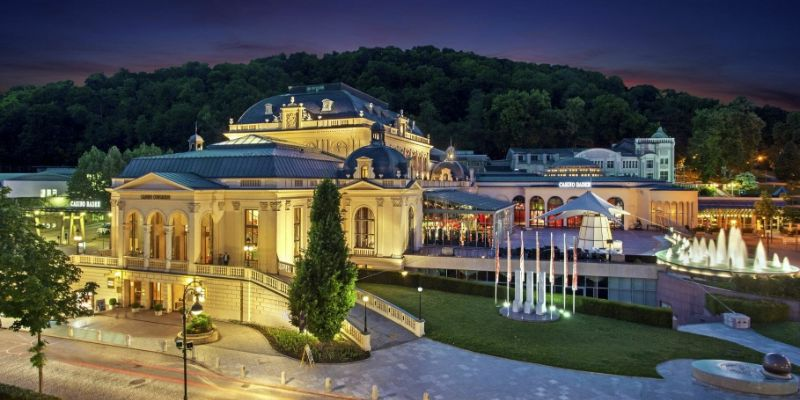 Moving on, let's talk about the Baden-Baden casino. It's situated in Baden, Germany, and it has been one of the most popular casinos in the country since its construction in 1824.
Baden-Baden is a traditional European casino that has been running for almost 200 years.
It has seen Germany in its best and worst times. Interestingly, when gambling was prohibited in France, many French gamblers flocked across the border to Germany to play their favorite games, making Baden-Baden an international sensation.
Baden is a charming old town famous for its spas, nestled in the scenic Black Forest region. The casino there blends in perfectly with the surroundings.
It's a stunning place both inside and out, offering a range of exciting games like blackjack, roulette, and elegant poker rooms. You'll also find over 130 slot machines to try your luck on.
The emphasis here is clearly on providing a top-notch experience with a focus on aesthetics and quality, rather than overwhelming quantity.
It's a place that leaves a lasting impression on everyone who decides to pay a visit.
5. Sun City Resort in Rustenburg, South Africa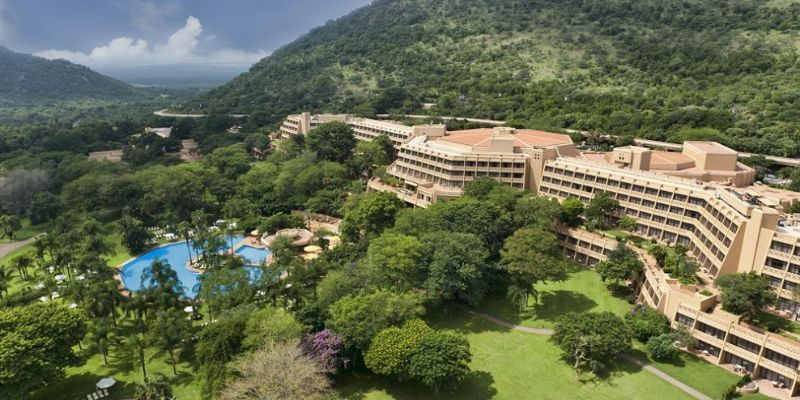 Right in the middle of the list, we have the Sun City Resort in Rustenburg, South Africa. It's widely recognized as one of the most famous gambling destinations in this part of the world, drawing in visitors from both near and far. What sets this place apart is that it's not just a casino, but a full-fledged resort.
However, don't be fooled, as the gaming area within is still quite large and offers a memorable experience.
You'll find a wide variety of thrilling casino games to enjoy, all in a truly exceptional atmosphere. It's a place you shouldn't miss if you can visit.
Overall, the entire establishment spans an area of about 125,000 square feet that are solely dedicated to gambling.
Inside, you'll discover approximately 825 slot machines and a variety of 35 table games to try your luck on. But that's not all.
As part of the complex, there are also five hotels to choose from, along with upscale bars and restaurants where you can enjoy delicious meals and drinks.
And if you happen to be a golf enthusiast, you'll be delighted to know that the resort even boasts two fantastic 18-hole golf courses.
It's not just a place for individual gamblers; it's also a fantastic destination for a family vacation.
Although South Africa has many other beautiful places to explore, the Sun City Resort deserves a spot on your bucket list if you're seeking a fun and exciting destination to enjoy your time and spend money.
6. Seminole Hard Rock Hotel & Casino in Florida, US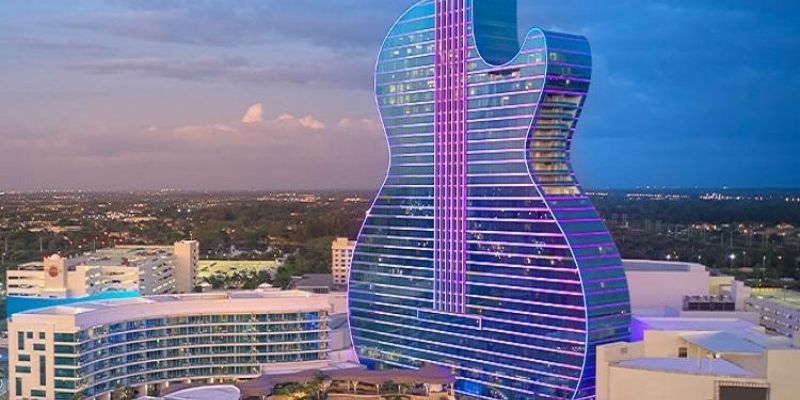 Now, let's talk about one of the most visually stunning casinos. It's the Seminole Hard Rock Hotel & Casino in Tampa, Florida. Just look at the picture above, and you'll see exactly why we say it's visually impressive.
The casino is shaped like an acoustic guitar, which is unique and not something you come across every day. It's a sight to behold.
It goes without saying that the entire place is all about music, particularly hard rock but also other genres in general.
This is another tribal casino in the United States, owned and run by the Seminole Tribe of Florida. It's the biggest casino in the state, approximately 245,000 square feet.
The inside of the casino is just as remarkable as the outside. You'll find song lyrics beautifully displayed on the walls and music playing throughout the establishment.
As you explore, you'll even come across screens showcasing music videos, one of which is located inside a waterfall. It's a music lover's dream come true.
Compared to some of the other casinos on this list, this one is relatively young, having been constructed in 2004.
It boasts an impressive collection of over 5,000 slot machines and similar games, 46 poker tables, and 200 tables for various other games.
While smoking is permitted inside the casino, a spacious 26,000-square-foot area is also designated as smoke-free.
In this section, you'll discover high-limit slots and a wide selection of table games to enjoy.
7. The Empire in London, England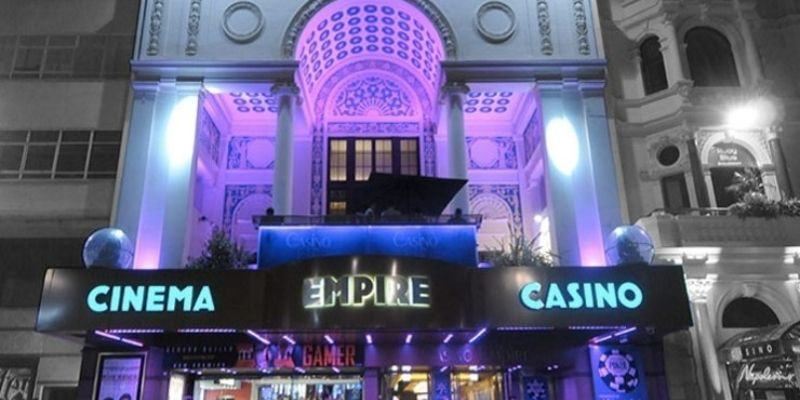 Returning to London, England, there is another incredibly impressive casino besides The Hippodrome. We're referring to The Empire Casino.
It's a gambling venue that opened its doors in 2007 and quickly gained recognition, making its way onto prestigious casino lists like this one.
While The Empire Casino may not be as massive in size as some others on our list, it certainly compensates with the vast selection of games it offers.
With over 5,000 games available, including a wide variety of popular monopoly slot machines and table games, there's something for everyone to enjoy.
What's more, the casino even features a half-mile harness racing track, adding another exciting element to the experience.
The Empire Casino is also known for its poker room, which often hosts major events like the World Series of Poker. As a result, it's a favorite destination for visitors and local gamblers.
The overall atmosphere of the casino is luxurious and highly sought after. If you happen to be in the area.
8. Casino de Monte Carlo in Monte Carlo, Monaco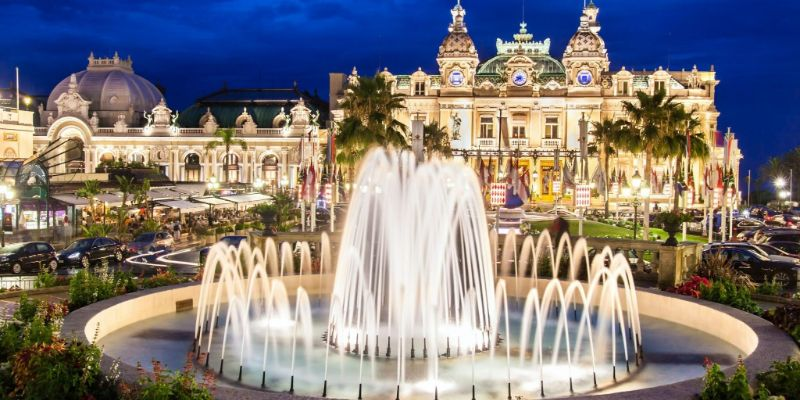 Next up, we have the Casino de Monte Carlo, situated in Monte Carlo, Monaco. In case you weren't aware, Monaco is known for its sophisticated and glamorous nightlife.
It's a sought-after destination for the wealthy, and the country itself has a distinctly European ambiance.
The Casino de Monte Carlo is often seen as its crown jewel, particularly among those with a passion for gambling.
The casino showcases stunning Belle Epoque architecture and intricate decorations, making it the epitome of luxury in gambling.
It's safe to say that it's the most extravagant place to gamble globally. This casino is mainly a haven for millionaires and billionaires, attracting the wealthiest individuals.
It offers an extensive selection of table games, including exclusive gambling rooms reserved for high rollers.
9. The Venetian in Macau, China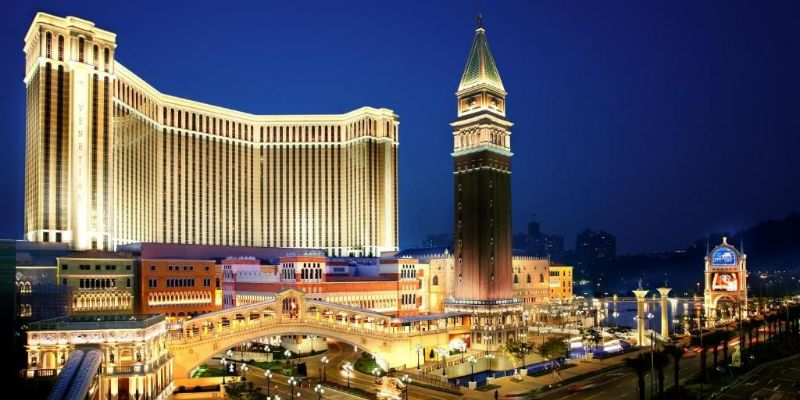 As we near the end of our list, we come to The Venetian, which is situated in Macau, China, despite its name. This casino is the largest in the world, with a whopping 530,000 square feet of casino floor.
What makes it even more fascinating is that it's divided into four distinct and expansive gaming areas.
Each area has its unique theme, to the extent that transitioning from one to another feels like entering a completely different casino altogether.
The Venetian isn't just massive in terms of its physical size; it also boasts an extensive selection of games.
While there may be other places with more than 3,400 slot machines, this establishment goes above and beyond by providing access to 500 different game tables.
It's truly enormous, and one could argue that it rivals, and perhaps even surpasses, anything Las Vegas offers.
The hotel resort accompanying The Venetian even boasts its canal system, where visitors can enjoy gondola trips. It's like having a little piece of Disney World specifically designed for gamblers.
If you ever get the chance, visit this incredible place.
10. Riverwind Casino in Oklahoma, US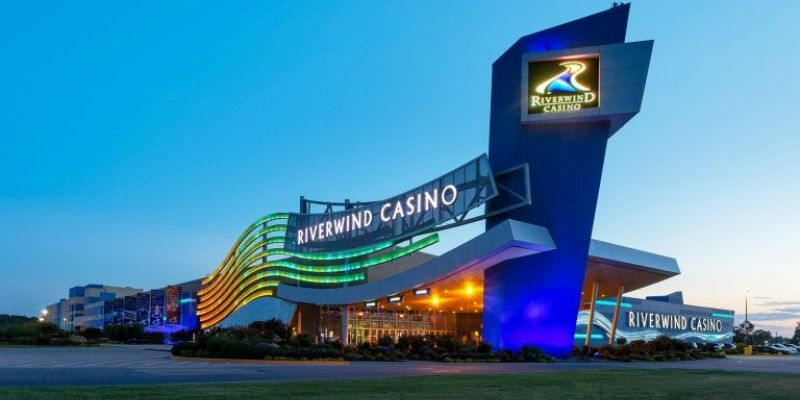 Finally, let's talk about Riverwind Casino, another notable casino in the United States. It's located in Norman, Oklahoma, and spans approximately 287,000 square feet.
The casino was constructed in 2006 and is part of a larger resort owned and operated by the Chickasaw Nation of Oklahoma.
Inside, you'll find an impressive collection of around 2,800 slot machines and similar games, 17 poker tables and 30 additional tables for various other games.
While Riverwind Casino certainly deserves its place among the best casinos in the world, a few aspects may be slightly underwhelming.
For instance, the accompanying Riverwind Hotel offers around 100 rooms, which is comparatively smaller.
However, there are some notable amenities to consider, such as complimentary valet parking and large off-track betting sites available five days a week.
Additionally, it's worth mentioning that the casino is conveniently located just a few miles away from the University of Oklahoma, making it an ideal destination for those who want to combine sports and casino gambling experiences.
ALSO READ: Top 10 Largest Casinos In The United States