PLINKO is an online game similar to the one on the Price is Right. In PLINKO, you earn tiles and then send them down aboard. The tiles bounce around and end up in different spots with different money values. You can win up to $25000 if all of your tiles end up in the $5,000 spot.
BGaming has created a version of this game that you can play online while sitting on your couch.
Continue reading the article to know more how to play the Plinko game online on your phone and how to win at it.
Plinko Slot Details
| | |
| --- | --- |
| Software Provider | BGaming |
| Year | 2019 |
| Volatility | Low |
| RTP | 99 |
| Demo mode Available | Yes |
| Payout | 25.000x your bet |
| Offer Free Spins | No |
| Bonus Game | No |
| Multipliers | No |
| Technology | HTML5 |
| Auto Mode | Yes |
| Can You Play on Mobile | Yes |
| Type of Game | Arcade |
| Minimum Bet | 1.00 Demo Coin |
| Maximum Bet | 100 Demo Coins |
| Lines | 8 |
| Game Level | Low, Medium, High |
| Based on | Price is Right |
Plinko Casino Game Overview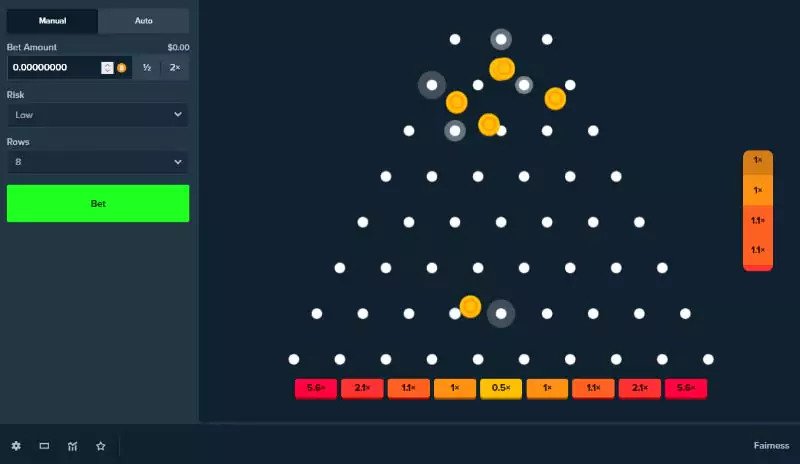 The theme of Plinko is, well, Plinko. There are no fancy colors or game show hosts. You get to play Plinko online at casino. The game board is on your right, while a list of each bet you've made is on your left. Players set a risk level and a bet amount. Risk levels are low, normal, and high.
Players have control over choosing both the minimum bet and maximum bet. Players can also set the number of "lines," which means the number of pink orbs (representing the tiles in the game) that head down the board after placing their bet. Like in the real game, the best values are in the middle. The farther out a player goes, the more negative the "payouts" get.
THING TO KEEP IN MIND: Before you start playing know everything about gambling to improve your chances to win at slots.
Plinko Online Game Symbols
The symbols in the game are based on what is in the game. BGaming's Plinko uses orbs instead of tiles. The slots are smaller and more focused on gambling. There is no crowd, no Bob Barker, and no Drew Carey.
Plinko Game Features
BGaming's Plinko game online tries to absorb the spirit of the gameplay itself. Players can choose to do a manual or auto mode. Manual means players set their bet before each drop.
Auto is like most autoplay modes from free slots. Set several plays and lines, then hit play. The game will play on its own (unless, of course, you stop it). One gambling symbol the game offers is a list of your previous bets. Players can use this list to determine how and when to bet big.
You can enjoy Plinko gambling from mobile and PC as well.
Final Words
BGaming's Plinko Game Online is a version of the game Plinko that does not have the reactions of the crowd, players, and hosts. If you want to focus on playing the game, this is a good option. But if you like gambling being included as part of the game, then you will love BGaming's Plinko.
Plinko Frequently Asked Question
What is Plinko Game?
Plinko is an amazing gambling game that you can enjoy and try your luck on. It is a simple game where you need to drop the marbles and wait for them to hit the prizes.
Who is the software provider for the game Plinko?
BGaming provides Plinko Game online for free (Demo Mode).
What is the volatile rate of Plinko?
It is a low volatility slot game.
What is the maximum winning prize at Plinko?
You can win a maximum of $25000.
Is the game available to play for free?
Yes you can play the game for free and without any time limit. We will add Plinko to our site soon.
Is Your Partner Suffering from Gambling Addiction? Try these 100% proven gambling addiction treatment tips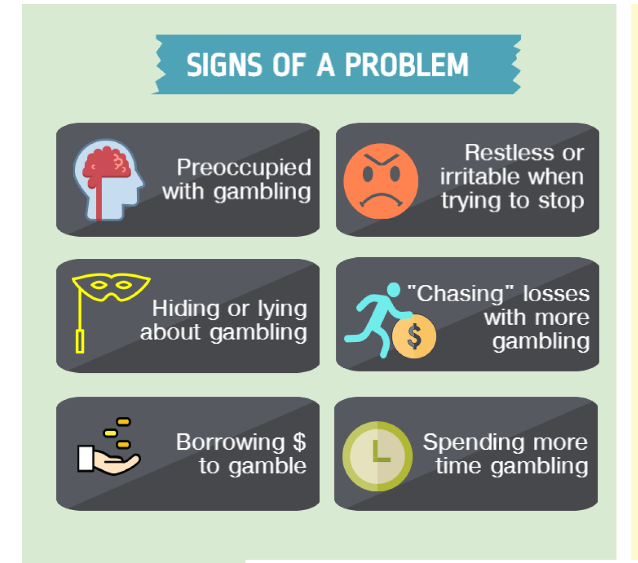 Check for the signs above and then you can try these gambling treatment tips.